Global Engineer posts this article to provide you the procedure and paperwork needed for foreigners working in Japan to have a smooth job. switch.
Do not forget to read the post thoroughly if you are planning to change your job in Japan.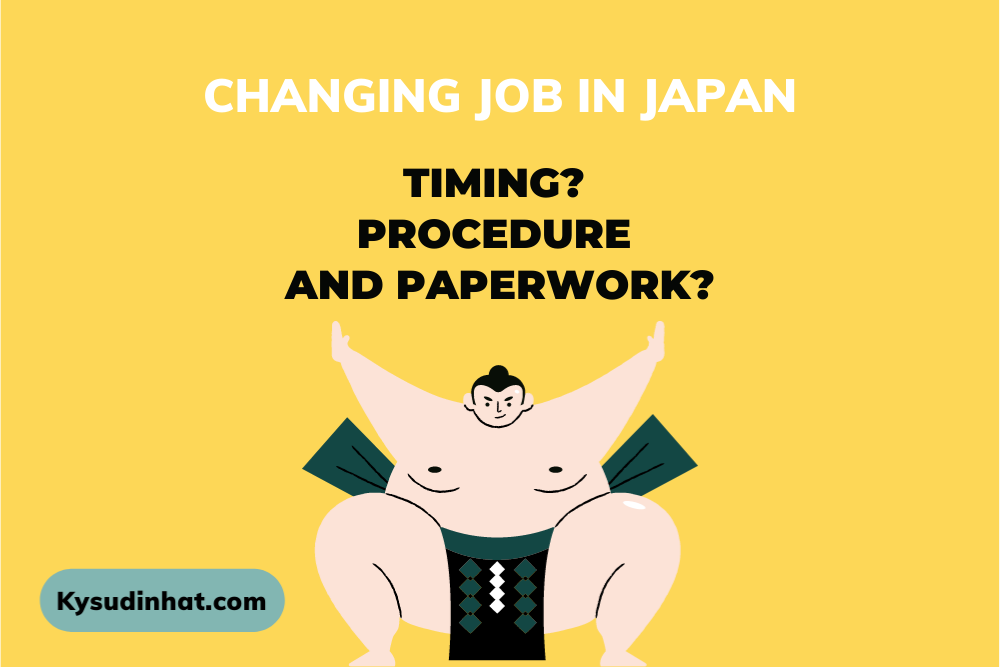 1. WHEN TO QUIT YOUR CURRENT JOB IN JAPAN?
– Based on the employment contract: 1-2 months in advance
To make sure that you obey the agreement, remember to check the employment contract and inform your employer on time. 
– Based on the duration of your visa: should quit more than 6 months before your visa expires. 
It is vital to focus on your legal length of stay in order to choose the appropriate time to leave the company, avoiding renewing your visa and resigning at the same time, and avoiding quitting your job if your valid stay is less than 3 months.
– Be leaving on the last day of the month
Normally, the insurance is calculated on a monthly basis and will be deducted from your monthly salary, so if you leave on the last day of the month, it will be okay, but if you take leave in the mid-month or early month, that month's social insurance money will be considered the national insurance and you will have to pay for it all yourself.
– Do not leave when the company is busy
It is not mandatory, but you should not quit during busy times like the end of the year if possible. The company may assume you are irresponsible and unprofessional if you insist on taking leave at these times.
Also if possible, you should take advantage of the recruitment season in Japan usually in December or late March – early April to seek another job. 
2. PROCEDURE AND PAPERWORK FOR JOB CHANGE IN JAPAN
To notify the company of your resignation, you can choose either of the followings:
– Send email notifications
– Inform your superiors directly
After deciding your last working day, the company will send you some documents such as a resignation letter, … for you to fill in and sign it. If the company has not sent it, you can ask the company's HR department about the paperwork when leaving.
3. DOCUMENTS TO BE RECEIVED FROM THE COMPANY BEFORE RESIGNATION
– Certificate for Unemployment Insurance (雇用保険被保険者証)
– Pension record book (年金手帳)
– Income and Taxes Record (源泉徴収票)
– Resignation letter (離職票) or Certificate for resignation (退職証明書)
4. DOCUMENTS TO BE TURNED BACK FOR THE COMPANY
– Items borrowed from the company: check-in card, nameplate, computer, phone, etc.
– Medical Insurance Card (健康保険証)
5. PROCEDURES AFTER YOUR RESIGNATION
– Inform the Immigration Department about your change of job and workplace.
Within 14 days of starting to work at the new company, you must notify the Immigration Department of your job change. This procedure is "Notice related to contracting agency" (契約機関に関する届出).
The forms can be found at: http://www.moj.go.jp/isa/index.html
▼ Documents to be prepared:
・ Notification form
・ Residence card (* if you are sending by post, send a copy of the 2-sided residence card)
▼ How to send: There are 3 ways to apply: in person, by mail or online registration.
・ Apply in person: Visit the Local Immigration and Residence Office: http://www.moj.go.jp/isa/index.html or One-Stop Information and Consulting Center: http://www.moj.go.jp/isa/index.html
・Post: send your documents to the below address
〒160-0004 東京都新宿区四谷一丁目6番1号四谷タワー14階
東京出入国在留管理局在留管理情報部門届出受付担当
・Register online at: https://www.ens-immi.moj.go.jp/NA01/NAA01SAction.do
– Apply for the Certificate of employment status (optional)
– Register for national health insurance, unemployment insurance, … (optional)
6. DOCUMENTS PREPARED WHEN ENTERING A NEW COMPANY
– Income and Taxes Record (源泉徴収票)
– Pension book (年金手帳)
– Resignation letter (離職票) or Certificate of Resignation (退職証明書)
– Certificate of Unemployment Insurance (雇用保険被保険者証)
– My number Card
– Copy of your bank account
– Residence Registration Form (住民票)
– Residence Card (在留カード)
Hope that the above information provides you the useful tips and makes you more secure and confident when looking for a new job in Japan. Good luck!
GLOBAL ENGINEER
Email: info@kysudinhat.com
Hotline: 0961 275 006